Acrylic Photographic Prints
If you're printing a picture with colors that span to the edges of the printable color range, and you want to reproduce the colors to the greatest effect, choose an acrylic photographic print.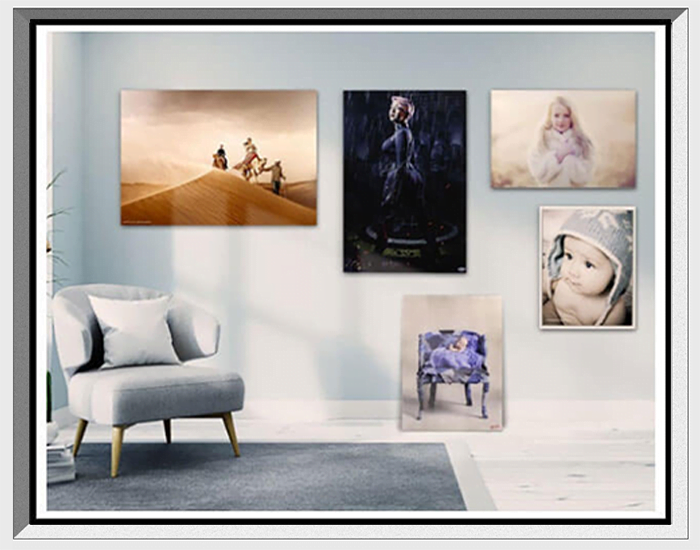 We print digital photos or reproduce your artwork directly onto acrylic in Tucson, AZ
Modern and sleek, acrylic photographic prints add a contemporary feel to any photo wall. These photo prints on acrylic glass offer image sharpness and fantastic detail. The finished print is foolproof since the printing is done on the reverse side of the acrylic.  A white backing layer is applied behind the print. Acrylic is a very popular medium for photographers, art galleries, and fine art applications, and custom acrylic photo prints in Tucson are garnering vast appeal. Since acrylic has greater longevity, durability, and quality of materials, it is also ideal for creating wall art for the home or corporate art.
Compare this method to Giclee since the process is similar.
Digital printing advantages on acrylic
Exclusively, printing can be done not only on acrylic but many different substrates
Waterproof and fade resistant inks are used
Acrylic photograpic prints are suitable and durable enough for printing photographs and artist's reproductions for interior or outdoor use
Any size can be printed including large format and extra wide format. By that we mean one piece printing up to 10feet high.
One more factor you should consider is the range of textures contained by the photo. Acrylic is great for accentuating contrast and color while maintaining a smooth surface
Comparing canvas prints and acrylic photographic prints
Both canvas prints and acrylic photographic prints resemble, in many ways, painted images you might see hanging in a museum — vivid, bright, and seemingly three-dimensional. A big contributing reason for this is the fact that the image is printed on the reverse side of the image, and, in most cases a white back ground is applied.  But just like in a museum, you don't want to mount an acrylic photographic print directly opposite a bright window or even under bright lights, as the reflections will destroy the majestic look of the acrylic. Selecting an alternate location for acrylic will take full advantage of the details and color of the print.
Canvas has significant surface texture and adds a matte-type finish to an image, creating a more subdued look with regards to color and contrast.  This tends to liken the image to a true painting.  And that is why Giglee Canvas Prints remain a favorite of artists reproducing their works.